苄基

-

Β

-L-

吡喃阿拉伯糖苷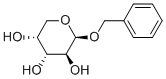 2,4,5-triphenyl-1-(2,4,5-triphenylimidazol-2-yl)imidazole

Product No.: ABT-S20
CAS No.: 7473-38-3
Formula: C12H16O5
Molecular weight: 240.25
Appearance: a white or almost white crystalline powder
Assay: ≥98%
Application: The product is a material and intermediates of pharmaceuticals. It mainly used in synthesis L-ribose, L-glycerol monophosphate, anthracycline-based glycoside and 2'-deoxy-2'-fluoro-5-methyl-β-L-arabinofuranosyluridine, etc., while it also use in synthesis disaccharide after been benzoylation.

Storage: room temperature, tightly closed, protected from humidity.
Package: 100g/bag, 1kg/bag, 25kg/drum
Drum packing: Closed packing with moisture-proof plastic bag or aluminum foil bag inside, packing with carton outside.
Dimensions: 5kg drum: 30cm*30cm*30cm
25kg drum: 35cm*35cm*51cm
For more quality information, please inquire us.