Acrylamide Crystal

Product No.: ABT-P05
CAS No.: 79-06-1
Formula: C3H5NO
Molecular weight: 71.078
Appearance: a white crystalline powder
Packing:
Acrylamide crystal is packed in 25kg paper-plastic composite bags, or following your demand,
Storage: Keep in dry,cool and ventilating place, avoid heat and insolation, Do not mix with oxidant and reductant.
Product Detail
Aurora AM adopt advanced biological method technology and has the feature of high purity,low Iron ions content and no copper ion. No mineral salt and other residual. AM is a kind of unsaturated amines, has two active center and can be generate multiple chemical compound after reaction.especially suitable for ulta-high molecular weight homopolymer and copolymer.
Specification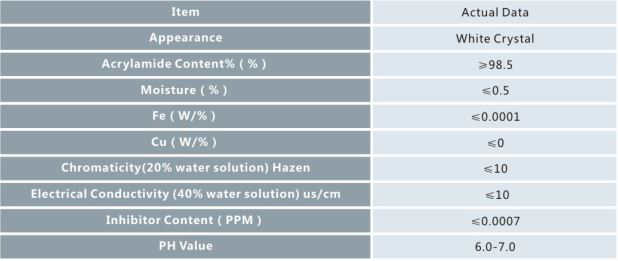 Applications:
Acrylamide can be used in the oil field,chemcial,textile,dyeing,construction,coating,drug,daily chemical industry for water treatment,incense making.it is the material of super-high molecular weight polyacrylamide and modified polyacrylamide.
Cautions:
1. Acrylamide should strictly abide by the transportation regulations of dangeous goods.
2. It is toxic chemicals,no contact with skin and mouth,if contact with skin, wipe off and wash with water.
For more quality information, please inquire us.